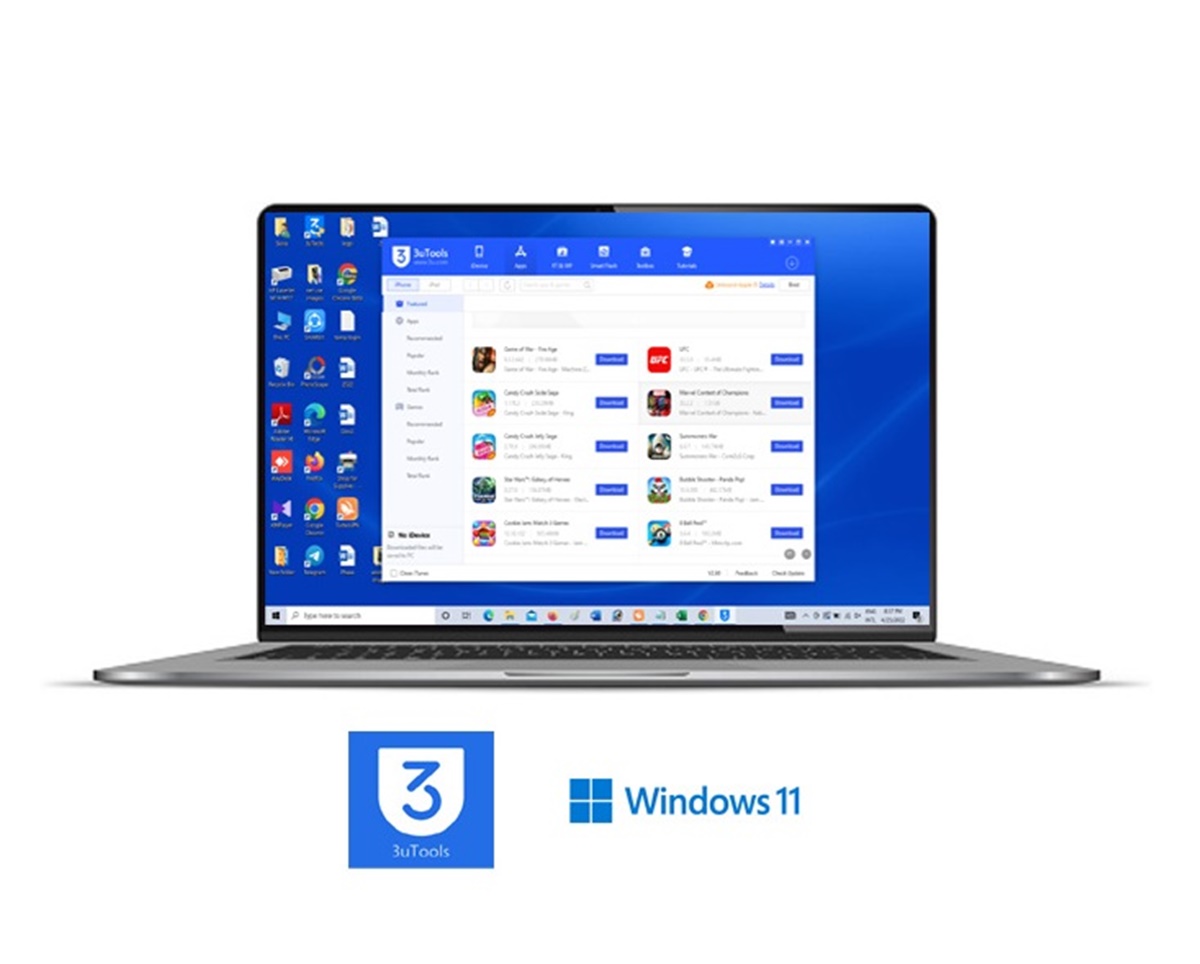 When it comes to managing your iOS files and information, nothing beats 3uTools for Windows 11. This fantastic app improves the iDevice experience on Windows computers (even the newest Windows 11) when connected to an iPhone, iPad, or iPod Touch. If you have a Windows PC, you can set up 3UTools to work with your Apple device. Connect your iOS device to your computer via USB or a wireless network so that you may utilize 3uTools.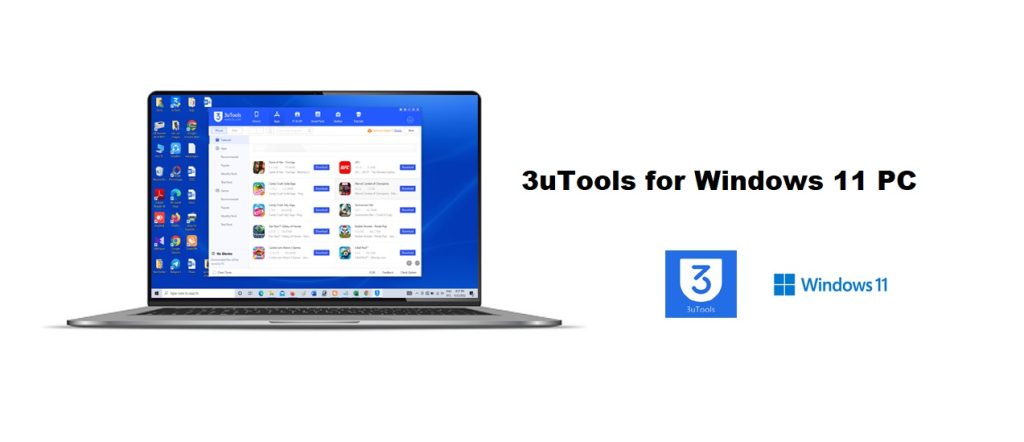 Wireless communication is possible if both devices are linked to the same WiFi network. You may check the health of your iOS device, download applications, games, wallpapers, music, jailbreaks, Flash iOS customizations, and much more using 3uTools for Windows 11. 3uTools is well-known for its many helpful flash and jailbreak tools, providing a hassle-free environment for anyone who wants to do these actions. The creators continuously improve the app and its features with new upgrades.
3uTools for Windows 11 Specification
| | |
| --- | --- |
| App Name | 3UTools |
| Version | 2.65 |
| Updated | January 10, 2023 |
| Category | Utilities |
| Price | Free |
| Platform | Windows |
| File Size | 115.20 MB |
| Developer | 3UTools |
3uTools Download for Windows 11

Displaying Technical Details of the iDevice
3uTools reveals your iDevice's technical details as soon as you have configured it. Geeks who love this kind of information would find it fascinating. You can access this information when you open 3uTools and land on its first section. The device's details, such as its model, amount of storage, CPU, and firmware version, are also included here.
The 3uTools interface not only details the iPhone's hardware but also shows whether or not it has been jailbroken. By bypassing Apple's limitations, known as "jailbreaking," users of iOS devices are free to add third-party software and make other customizations. Connecting an iPhone to a Windows computer running 3uTools will reveal whether or not the iPhone has been jailbroken and its essential technical details. You will notice that 3uTools has a user-friendly interface with smooth navigation.
Key Features of 3uTools for Windows 11
Apple users may unlock their restricted devices and download and install third-party apps that aren't available in the official App Store.
The Data Migration tool from Apple makes switching between Apple devices easier.
The Update & JB program allows users to install firmware and jailbreak their Apple devices, enabling iOS upgrades and downgrades.
A "third-party app store" is a different app store that gives users more choice and flexibility than the Apple App Store.
Owners of Apple devices can easily handle and organize their digital material thanks to robust organizing capabilities.
A ringtone maker for Apple devices that enables you to create your ringtones.
Realtime debugging information speeds up the process of correcting bugs on iOS devices.
Recovering deleted or lost data from an Apple device.
The iOS system's repair features include fixing issues like the frozen Apple logo and becoming trapped in recovery mode.
The program's user interface is well-designed to make use and navigation simple.
3uTools Latest Version 2. 65 (2023-01-10) Features
Optimized FaceID Detection
Optimized the Function of Erasing all Content and Settings
Optimized the Pro Flash
Fixed some known issues
3uTools – A Feature-Packed Program
3uTools has six different pages for serving users with its facilities. Namely, they are the iDevice Info page, Appstore, Ringtones/Wallpapers, Smart Flash, Toolbox, and Tutorials. You will love how everything is neatly arranged. As an all-in-one tool, this program is comprehensive and versatile. A built-in app and game store contains all the most recent and popular apps and games. You can download them to the PC and play them via your iDevice.
If you are considerate about the storage space of your iPhone, this is the better option. Please remember that you need to bind your Apple ID after connecting the device with Windows; otherwise, you will not be able to execute 3uTools services. Don't worry if you need to learn how to get something done; there are plenty of instructions on the 3uTools help pages.
Jailbreaking Your iDevice with 3uTools
Jailbreaking is a significant component of 3uTools. It is correct to state that most iDevice users install 3uTools on their Windows 11 PCs solely for jailbreaking. They tend to do this because it's super convenient and minimizes the burden of manual jailbreaking of the iOS gadget. Still, you must be aware of the consequences of overriding Apple's security because it is still harmful.
Whether you use 3uTools for jailbreaking or not, the effect on your device is still the same. 3uTools offers the latest and most popular jailbreak methods, such as Unc0ver, Odyssey, CheckRa1n, Electra, Chimera, and Meridian. Implementing the Classic Device Jailbreak for older iOS models is also possible. 3uTools jailbreaking is an active platform with a support page where you can find answers to your questions.
Extensive Flash Utilities
3uTools SmartFlash is another prominent feature of 3uTools. The 3uTools program has a function called 3uTools Flash that lets customers update their iOS to the latest available version. Flashing is shorthand for applying an iOS update to a smartphone. The newest firmware may be installed on your device using 3uTools Flash if, for instance, you have an older iPhone running iOS and you wish to update to the current version.
Another scenario in which 3uTools Flash might come in handy is if you suffered software troubles with your device, such as frequent crashes or sluggish performance. Fixing software problems and maximizing your device's potential in this way is possible. There are four main flash modes under the smart flash option: Easy Flash, iTunes Flash, Pro Flash, and Multiple Flash, and you can use them as per your requirements.
What More Can 3uTools Do?
Apart from these primary functions, 3uTools for Windows 11 includes a Toolbox which integrates dozens of useful tools for iOS users. These utilities, namely Backup/Restore, Virtual Location, Realtime Screen, 3uAirplayer, Erase All Data, Transfer Data, Update IPCC File, Accessibility, and More Tools, are available. As you can see, 3uTools is loaded with tweaks and mini-programs that let you experience the next level of your iDevice. 3uTools is a safe way to explore the risky side of third-party and customized content created for iOS. 3u tools protects your device because the developers don't include or associate harmful programs with it.
3uTools for Windows 11 FAQs
What is the latest version of 3uTools?
A – You can download and install the latest version V2. 65 (2023-01-10) on your PC. It is compatible with both 32/64-bit versions of Windows.
Is 3UTools free?
A – Yes, the program and all its features are entirely free. There is no paid version of the program.
Is 3uTools available for Android?
A – No, 3UTools is exclusively available for iDevices. However, there are many other alternatives you can try.
Is 3uTools for Windows safe?
A – Yes, it is safe to download and use 3uTools as long as you get the installer from trusted sources. You can always scan installers before you proceed with the installation.
Conclusion
3uTools for Windows 11 is a must-have software for all iPhone users. It unlocks the full potential of your device with features like 3uTools Jailbreak and 3uTools Flash. It has an App Store with thousands of unofficial apps, games, themes, music, etc. The program is currently only compatible with Windows machines, such as desktops and laptops.
Your iPhone does not need to be jailbroken to benefit from the services of 3uTools. You only need to consider whether you have correctly bound the Apple ID with 3uTools; the rest is up to the program itself. With frequent updates from the developers and active user communities that interact with each other on the forums, 3UTools is a highly progressive platform. Try this fantastic program on your Windows 11 PC today!